GREEN DEVELOPMENT: A CASE FOR
BANGLADESH
Simi Hoque, Shideh Shams Amiri
Dept. of Civil, Architectural, & Environmental Engineering
Drexel University
Buildings consume a majority of the energy and resources produce in the word, and in climate vulnerable regions like Bangladesh, this has profound implications.
In order to mitigate the problems of climate change, energy security, water shortage, and air pollution, new buildings must be designed and built with a focus on energy and water conservation, reduction of material waste, flexibility, durability, and comfort.
LEED (Leadership in Energy and Environmental Design) was developed in 2008 by a non-profit organization called the United States Green Building Council.
Standards, like the Green Building Council's LEED rating system, developed in the United States, have been exported to other nations, but rapid growth of the built environment in urban centers has outpaced the adoption of many such standards in developing countries.
Transport
Agriculture
Buildings (Domenstic & Tertiary)
Industrial Buildings
Industrial Processes

This presentation presents a case study of an interlinings (for garments) factory building in Dhaka, Bangladesh that has been awarded LEED certification.
Why Bangladesh?
Bangladesh, where Padma and Jamuna Rivers feed the Bay of Bengal, has the world's largest delta system and as a result, seventy percent of the land is in a seasonal flood plain.
As one of the world's most densely populated countries with limited land space, Bangladesh faces critical consequences as a result of climate change (Mirza 2002).
Urgent action is needed to address climate-related floods, droughts and storm surges, which directly affect six main sectors – water resources and coastal zones, infrastructure and human settlements, agriculture and food security, forestry and biodiversity, fisheries, and human health(Rawlani & Sovacool, 2011).
Osman Interlining Ltd
Osman Interlinings Ltd. is a garment accessories factory
The only green interlining factory that received Gold certification by the US Green Building Council's Leadership in Energy and Environmental Development (LEED) system
Located outside Dhaka City in Savar
The industry comprises over 4000 manufacturers and there are more than 7,000
garment factories employing over 5 million people
Approach
To understand the Green Building (LEED) process in Bangladesh, we conducted research interviews with the owners of and LEED consultants for the Osman Interlinings factory building
For the certification process, we focused on how the project was conceived and managed during the design and construction phases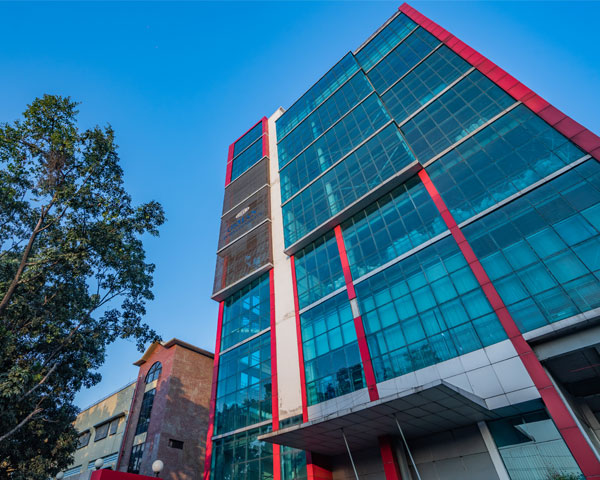 Osman Interlinings Ltd. Factory Building (Photo credit
Osman Interlinings Ltd.)
Methodology
We reviewed the score card and project report submitted by the consulting group, (Energy Solve International (Pvt) Ltd).
We reviewed the Osman building's architectural design and construction drawings and reports that were developed during the process.
For the certification process, we focused on how the points were accrued, specifically on the climate-responsive envelope design, energy services (air conditioning) systems, plug loads, water conservation, indoor air quality, and waste management services.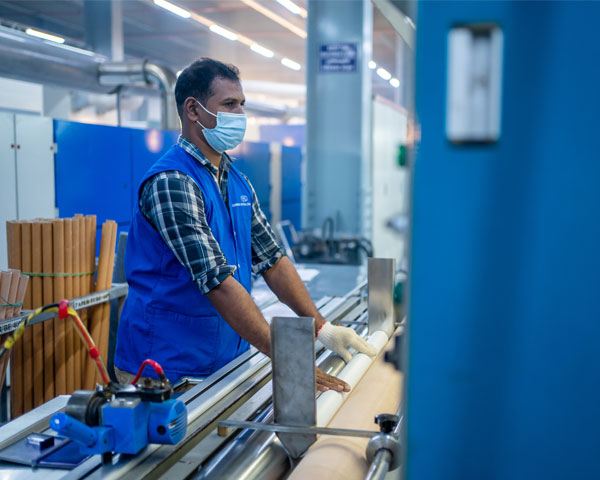 Osman Interlinings Ltd. Factory Building (Photo credit
Osman Interlinings Ltd.)
Case Study
Osman Interlinings Ltd. was established in 2001
The construction period was November 2014 to April 2016
The new factory building is an 8 story building with all office spaces air conditioned
Garment factories have large plug loads due to the types of equipment that are used to construct the garments
Osman Interlinings produce woven, non-woven, and knit interlinings.
They have specific plug loads for the machinery used to roll the fabrics, coat the fabrics with bonding agents, and to test the quality of the products.
LEED certification process was completed in September 2016.
The building was awarded a Gold LEED rating under LEED New Construction, version 3 (LEED-NC v.3).
It is qualified for 62 credit points (out of a total of 106) and all eight prerequisites.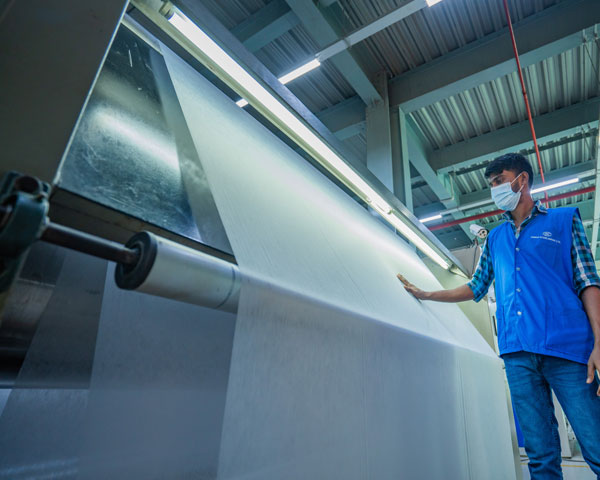 Osman Interlinings Ltd. Factory Building (Photo credit
Osman Interlinings Ltd.)
Observations
The building has a gross area of approximately 1000 square meters, with a footprint of 250 square meters.
It is oriented with the front elevation towards the south-east, with approximately 85% glazing on this façade.
These glazing percentages as well as the building's orientation are important in Dhaka, which has high temperatures, high humidity, and heavy rainfall.
The Köppen-Geiger climate classification is Aw, or tropical wet.
The average temperature in Dhaka is 25.9°
May is the warmest month (average 30.0°C) and January is the coldest month,
(averaging 19.0°C)
The average rainfall is 2022 mm, that occurring mostly during the monsoon
season (June to October) .This has critical implications on the building enclosure because wind-driven rain is the leading cause of material degradation in building envelopes.
High relative humidity (average RH65%), added risk of condensation and mold growth on building surfaces.
There are three main seasons in Bangladesh:
A hot summer season from March to June. Climate characteristics include high
temperatures, a high rate of evaporation and erratic heavy rainfall.
A hot and humid monsoon season from June to October with heavy rainfall
accounting for around two thirds of the annual rainfall.
A less hot and drier winter season from November to March.
Bangladesh ranks 169th (out of 178 countries) at the Environmental Performance Index for Air Quality .The air quality in Dhaka reaches an yearly average of 90 µg/m3 of PM2.5 which corresponds to an Air Quality Index of Unhealthy (AQI ~168). It is not unusual for the AQI to reach Hazardous levels (AQI >400).
Green buildings have to mitigate the ambient air quality in Dhaka.
LEED
 The LEED rating system facilitates reduced operating costs and promotes energy, water, and resource conservation.
While LEED certification is generally framed by U.S.-based practices, codes, and regulations, different building regulations and energy systems are used in different countries for energy efficiency and resource conservation.
Building designers and engineers may face some challenges when LEED is applied in Bangladesh, which has a different building culture and climate.
Findings
The Osman building has achieved the following benefits from the LEED Gold certification:
Tangible benefits:
28% reduction in energy consumption.
46% reduction in water consumption.
Intangible benefits:
Green image for the facility.
Better health and safety of the building occupants.
Higher productivity of occupants.
Improved operating practices.
Incorporate latest techniques / technologies.
For energy savings in green buildings, there is a three-tiered approach:
The first tier is climate responsive design. This emphasizes building orientation,
massing, percentage glazing, envelope thermal resistance, and air tightness.
The second tier is selection of equipment and systems that are high performance and efficient to reduce operating energy use.
The third tier focuses on mitigating the environmental impact of the remaining energy budget of the building through renewable sources such as photovoltaics, solar thermal systems, and wind.
Building Envelope
The selected opaque and glazing materials' thermal resistance to heat transfer, were matched to ASHRAE 90.1 2007 (significantly higher than what is required by code in Bangladesh).
The envelope contributed to energy savings through optimized design of the exterior walls, window shading and glazing selections.
HVAC and Lighting
Building design has the availability of ample natural light from the large glazed curtain wall on the front façade to reduce electrical lighting loads.
Building qualified for 2 (out of 19) points in the Optimized Energy Performance Credit under LEED.
Renewable energy
PV on the building roof was installed to generate energy (there are no provisions in Bangladesh to purchase renewable energy contracts ).
Water
installing water efficient fixtures and using greywater systems (rain) for irrigation.
The factory was able to achieve all 10 points in the Water Efficiency credit category.
The calculated 46% reduction in water use is compared to a baseline water use for buildings in the United States (as per the Energy Policy Act).
Summary and Discussion
Compliance and enforcement of LEED criteria is an important factor in a building's actual performance.
The LEED requirements may have strict standards for water, energy, and air quality, but if there is a lack of compliance and enforcement the building may not actually be performing as it was designed.
Training of the building professional work force is essential for LEED buildings to be designed and operated as intended.
In Bangladesh, there are a variety of course types for LEED accreditation preparation offered by the Bangladesh Green Building Academy (BGBA).
For building professionals, field training is beneficial in designing and ensuring buildings to achieve targeted goals.
For construction laborers in Bangladesh, there are no training centers, courses, or educational opportunities to improve one's trade.
Local builders are unskilled laborers who learn how to build by building. Many of the poor in Bangladesh villages migrate to Dhaka to work as construction laborers.
Training building construction laborers is important not only for safety reasons, but also in climates with extreme weather conditions to ensure the building assemblies are installed properly according to the building code.
Green building construction techniques can be taught using hands-on job training through continuing education courses.
The most important outcome of the research and investigation of the Osman factory and the LEED process was:
The culture of building in Bangladesh acts as a mediator between LEED requirements and the actual greenness of a building.
Building culture consists of the following: attitude of building owners towards green buildings, knowledge of the design team (architects, engineers, and developers) about LEED strategies, skills of the laborers who construct the building, equipment and materials available, LEED compliance, and enforcement of standards.
The single most important factor in achieving LEED certification or any green building standard in Bangladesh is the owner's willingness to advocate and pay for the cost of greening.
For the Osman factory, the LEED process increased the overall building costs by 9%, which was acceptable to the owners for both marketing purposes and the promise of improved operations.
Bangladeshi garment factory owners are now leaning towards constructing green factories. There are now 30 textile and garment factories in Bangladesh with LEED certification and 150 factories are planning on pursuing LEED certification.