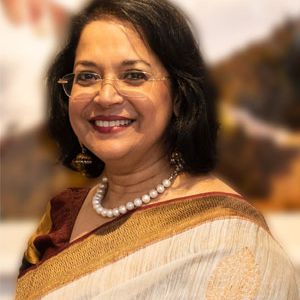 Sabrina Islam
Sabrina Islam has been involved in business for over three decades, having started her career with the Bangladesh Handicrafts Cooperative Federation that pioneered the marketing of rural artisan's arts and crafts in Bangladesh through its outlet "KARIKA" in the mid seventies.
She obtained her LLB (Honours) from University of Dhaka in 1977.
In 1977, she was awarded a scholarship by Ford Foundation under their program 'Decade of Women 1977-1987'. Under the program she studied Small Business management in Mount Vernon College, Washington DC and did an internship with "Artisan's Cooperative", a Pennsylvania based organization working with rural craft workers in America.
After her return from the USA, she enrolled in the MBA program at the Institute of Business Administration, University of Dhaka and graduated as an MBA in 1984.
Sabrina Islam is the Managing Director of Lily Apparels Limited and Director of Concorde Garments Ltd, both 100% export oriented garment factories.
In 1998, she set up a highly innovative business of Architectural and Decorative Art and Stained Glass, 'Reflections,' which industrialized the production of Decorative Art Glass in Bangladesh. In 2002 she obtained an international franchise of 'SGO – Stained Glass Overlay', a North American company producing Stained Glass Overlay products having a network of franchises in 36 countries of the world.
As recognition of her achievement, in 2009, she received the "Outstanding Woman in Business for 2008", Bangladesh Business Awards, established by the most popular English newspaper in Bangladesh, The Daily Star and DHL World Wide.
Sabrina Islam has received a number of recognitions and awards such as the Most Outstanding Women Entrepreneur (from Asia) at the 3 rd Businesswomen's Forum in Islamic Countries organized by Islamic Chamber of Commerce and Industries in Doha, Qatar, in 2008 and Federation of Bangladesh Chamber of Commerce and Industry (FBCCI)/Standard Chartered Bank – 2006 SME Award for Outstanding Women Entrepreneur. In addition, she is the recipient of a number of awards at the yearly Dhaka and Chittagong International Trade Fairs and at the International Conferences of SGO- Stained Glass Overlay, for her creative designs and products. She is keenly interested in women's entrepreneurship and skills development, eradication of poverty and sustainable economic development for women, awareness and eradication of violence against women and gender disparity.
Professional Memberships and Trade Body Activities
Chairperson, SABAH Bangladesh, a project financed by SAARC Development Fund (SDF) http://www.sabah-bd.com
Member, Board of Governors, Underprivileged Children's Educational Programs, UCEPBangladesh http://www.ucepbd.org
Member, Executive Committee, National Skills Development Council (ECNSDC) Government of Bangladesh
Member, Bangladesh Federation of Women Entrepreneurs
Member, American Chamber of Commerce in Bangladesh (AmCham) http://www.amchambd.org/
Member, Dhaka Chamber of Commerce and Industry http://www.dcci.org.bd/
Founder Director, International Medical College, Bangladesh http://www.imc-bd.com
Past Vice President, Bangladesh Employers' Federation http://www.bef.org.bd/